Develop mobile App: First of all, understanding how much it costs to create an mobile is essential. It is one of the first questions that most clients who approach us with a mobile app idea ask.
The estimated cost to create a mobile app is $ 39,000 to 125,000 and can exceed $ 275,000 in some cases.
The focus keyword here is unsure because many factors like mobile app types, functionality, selected vendor, complexity and the development approach may influence it.
What Are Factors Influencing The Cost Of a Mobile App?
The cost of creating a mobile app depends on many factors. Here, we list out the following factors.
The complexity level of mobile app
How much do different app features cost
Mobile app cost by app type
Mobile app cost by development region
Mobile app cost by platform on which your application will run
Mobile app cost by development approach
Hidden mobile app development cost drivers
The estimated cost of building various mobile apps
1.The Complexity Level Of Mobile App Development
The simple design mobile apps takes less development cost and time. But if you want to integrate business rich mobile app features into your application, the development cost and time will increased, and you will have to spend extra time and money. We list out following questions to ask yourself.
How may features are you implementing into your mobile app?
Is the apps business logic complex?
How many screens, buttons, and functions will it have?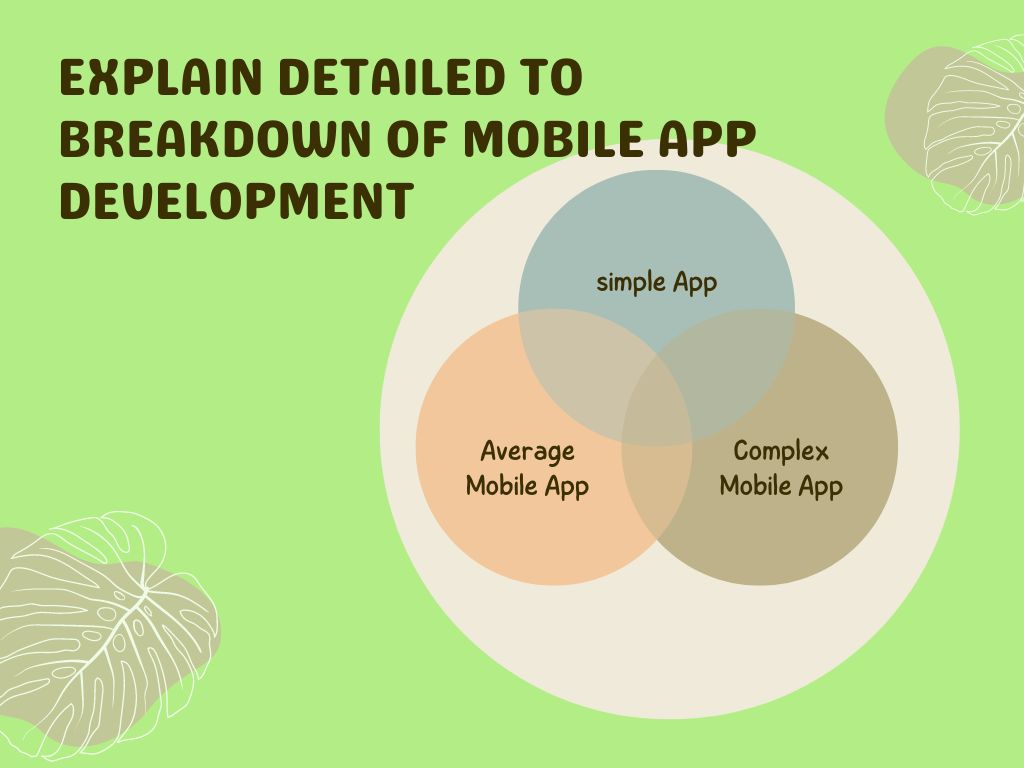 We explain detailed to breakdown of mobile app development price:
Simple Apps
Features: crucial features like profile making, search, notification, and messages
No added extra benefits
Fewer screens only available
Example: Calendar, calculator
Development time: 2-3 months
Development cost: $39,000 – 50,000
Average Apps
Features: crucial features, in extra to in-app purchases and payment portal.
Custom UI design
Allows API integration
Real-time messaging and other features
More screens than the basic version.
Example: McDonald's Loyalty App
Development time: 3-6 months
Development cost: $51,000 – $125,000
Complex Mobile App
Features: Multiple functional apps
UI animations
Advanced features like real-time synchronization
Media processing.
Example: Uber, Instagram
Development time: 9 month or more
Development cost: $200,000+
Some of important features and functions,
User login: from the simple username/password combined to convenient social media logins to secure 2-factor authentication systems, most mobile apps have some sort of login.
Monetization Schemes
In-app buys, shopping carts, and payment integration are all separate features with their development costs.
Messaging
Vital for social media apps, the ability for users to communicate and interact with one another is a project in its own correct.
Search
Many users expect some sort of search functionality, photo galleries, product catalogs, videos or other content.
Push Notifications
To keep users updated and in the loop about whats happening on your app, notifications can encourage engagement and when user retention when adequately employees.
Geo-location
A no-brainier for travel, restaurant, and ecommerce apps – geographic location can be just as vital to your users as user analytics.
2.App Type
We can generally classify mobile apps into Native, Hybrid and Web. Each mobile app type is unique based on its requirements, business logic, and functionalities.
Native apps are create with language native to the operating system of a given device like Objective C or Swift for the iOS platform and java or Kotlin for the Android platform.
Hybrid mobile apps are built using a combination of web and native technologies and are thus best suited to cater to the needs of a large users.
Web apps are mobile version of a website that users responsive design to ensure a smooth user interface across varied screen sizes – from tables to smartphones.
To help you understand how much it costs to create different app types, here is a comparison table highlighting the difference web vs Native vs Hybrid mobile app developments.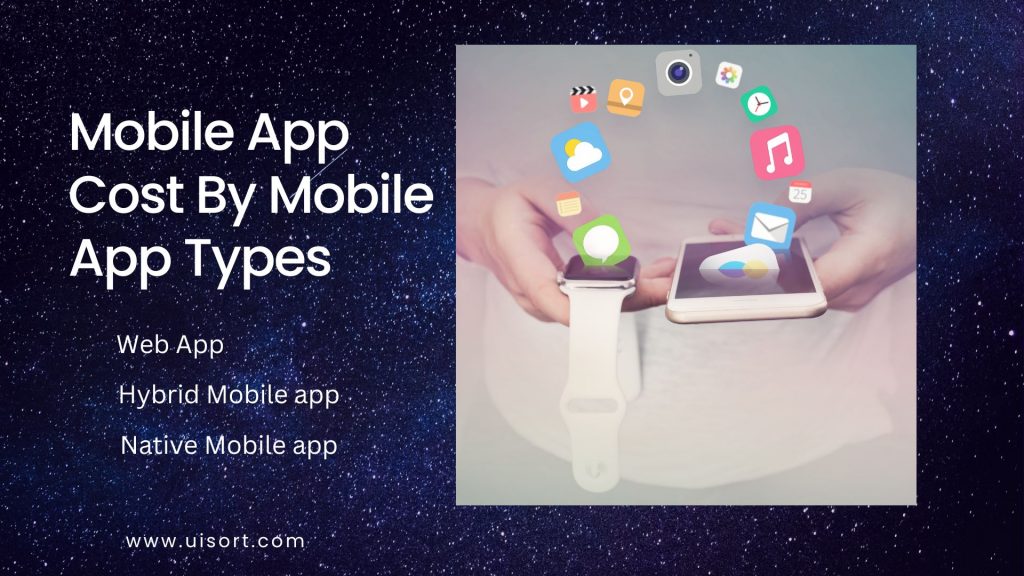 Web App
Performance: Depends upon the internet connectivity and browser performance.
Code maintenance: Low: The same code is used across all platforms.
Distribution Channel: Directly available on the web.
Required skills: HTML, CSS, JavaScript
Best Used For: Apps that do not have high-performance requirements and have limited resources and funds.
Hybrid Mobile App
Performance: Less performance due to limited access to native device features.
Code Maintenance: Moderate: Single code structure can be ported to all major platforms.
Distribution channel: Hosted in the app store of the operating system.
Required skills: HTML, CSS, JavaScript and Mobile Development Framework.
Best Used For: Apps that do not have high-performance requirements but require full device access.
Native Mobile App
Performance: Highly efficient as they can access native device features.
Code Maintenance: High: A common code cannot be used for all devices.
Distribution channel: Hosted in the app store of the operating system.
Required skills: Objective-C, iOS SDK, Java, Android SDK.
Best Used For: Apps that required high optimization levels, like Games or consumers- focused apps where performance, graphics and overall user experience are needed.
3.Mobile App Development Region
Mobile app development is cost-effective in some regions than others, and they primary reason behind it is the different in developer's hourly rates.
we list out the how much developers from various regions charge on an hourly basis:
Region                   – Hourly Rate
USA                       – $120-150
United kingdom       – $100-120
Western Europe      – $80-100
Eastern Europe       – $30-50
India                      – $20-30
As you can see, mobile app development is cost-effective in India and Eastern Europe regions than US, UK and Australia.
4.The Platform On Which Your Application Will Run
Here we mention an estimated cost and time of developing a mobile app for iOS and Android.
iOS App estimated cost and time is $45,000-$275,000 and 1,200hours.
Android App estimated cost and time is $50,000-$275,000 and 12000hours.
There is no much difference between the cost of these android and ios platforms. So, you can finalize to create an app either android or iOS. You can even follow a stair-step approach. That means building an app for one platforms and then creating it later for another platform..
5.Development Approach
You are mistaken if you think the development proposal doesn't matter and significantly impacts the cost of creating a mobile app. Hence, you must keep the development proposal in mind while creating a mobile app.
Following are the development proposal you can follow to create a mobile app:
Development Approach

Having an in-house team: Costs is even higher than hiring a local agency. Here are the salaries of different development team members. Full stack developer: $98,000 per year. Designer: $85,000 per year. IOS or Android developer = $85,000 per year.
Hire a local agency: Suppose you are living in the US. Hourly rates of the development and design team: $120-150. If the total development time is 500hours, the cost will be $120*500 = $60,000. let's not forget the  operational and maintenance costs.
Hiring Freelancers: Average hourly price of a freelancer depending on the country you are hiring from US: $50/hour, Ukraine:$25/hour, Asia: $15-25/hour, Latin America: $20/hour, The development cost will be, US:$25000, UKraine: $12500, Asia: $7500-12,500.
Hiring an app development agency is more viable. It costs you less than hiring an in-house team or a local agency and gives you accountability for your ios and android application.
Also Read: Top 7 Advantages Of Artificial Intelligence In Mobile Application Development
6.Complexity Level Of Application Design
Much like app development, more customization's in you mobile app design lead to higher costs.
User Interface: Visual features like screen, color, layout and typography will also have a significant impact on the mobile app cost.
UX Writing: Hiring an UX programmers from a Native English-speaking country will cost you more than hiring from a non-native one.
User Experience: The cost of mobile app will varied based on engagement levels and intricacies of user experience like color psychology, button placement and user eye pattern.
Branding: You would have to spend more if you want to create your mobile app stand out from a crowd of hundreds of similar brands.
Hidden Costs Associated With Mobile App Development
We list out a few additional costs associated with mobile app development that you can't ignore:
Maintenance costs like the money spend for fixing issues, releasing updates and paying server fees.
Marketing costs to promote your mobile app. They cost around 40% per year of the original development cost.
Functional cost like the fee for 3rdparty integration. They can cost you anywhere between $5,000 – 17,00 per year.