Deliver Groceries online: In this coronavirus has interrupted everybody – common routines life, office work, even a visit to a nearby grocery store. Amid pandemic as many countries have shut every single store. Similarly, all the food customers have closed their dine-in tradition for everyone. In the revenue and expecting a grate recession in the near future, from businesses to the share market everything is experiencing a great downfall.
According to the CDC,
Quarantine yourself inside the home
To restrict the movement people
The most effective and easy way to prevent the infection
Avoid gathering places
And if visited then keep at least six feet distance between the people.
In this situations, online grocery apps to fulfill the needs of kitchens are being used by the online customers to deliver groceries to their doorstep. Today's trending news in the market is the record downloads in the online grocery delivery apps.
Why is online grocery delivery software essential?
The COVID pandemic has shown us the uncertainty about online grocery delivery services. But online grocery delivery app services are offering a peace of mind to the service providers as they are fulfilling the customers' needs easily.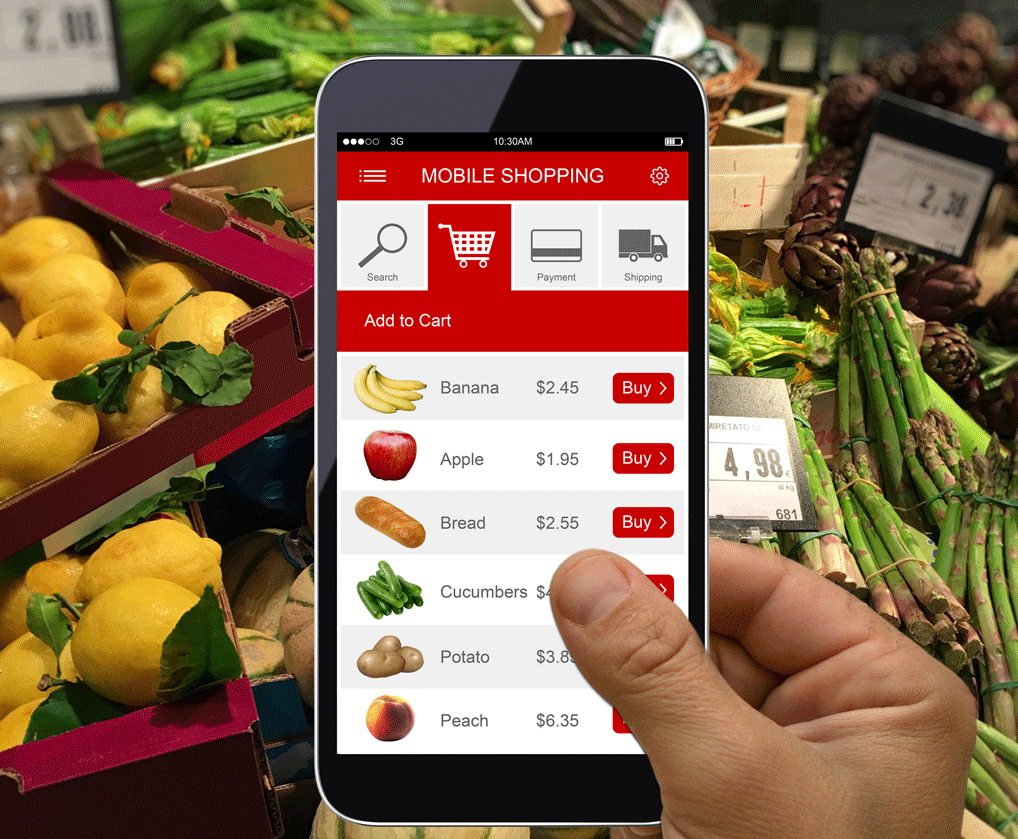 The online grocery delivery mobile apps are helping people to order and deliver products at their mentioned addresses, even in this situation where thousands of people are quarantined at their homes. This online grocery delivery options are also contributing to flattening the graph of COVID infected spread among people. So, they become an essential part of our life.
Benefits of online grocery delivery apps
There are several benefits of a grocery delivery app. They can bring a promising business for store owners and app developers in coming month, as soon as people get used to these apps.
People no longer have to stay in long queues and wait for their turns at the counter. Now they can easily add products to their cards, place their order in much less time as compared to physical shopping and use a convenient payment method.
People get the comfort of ordering directly from their mobile phones while sitting at their office, home, or anywhere. 
Online customers are ordering groceries via delivery apps
Everyone is scared of the coronavirus infection as there is no cure you know. What we all have is to prevent ourselves from this infection and the medical experts are unable to find the vaccine.
Therefore, online grocery delivery apps is today most convenient and safest way to get the kitchen items. In this pandemic lockdown the online delivery options are helping to peoples and to get the ordered items right in front of their houses. The benefits of these robust online grocery delivery app script is the record downloads in different parts of the country that are delivering them with the zero-contact approach to make sure the spreading of the coronavirus.
Is it important to have a grocery delivery app development solution?
Many people to know the exact reason of Google. This question is asked by many people.
There is no doubt that online grocery delivery apps are providing as blessing for the services providers as well as for the customers, these are well to see the whole scenario. The one thing is already having these online delivery solutions for their grocery stores are making huge money even in COVID pandemic and during the lockdown.
They are successfully getting the orders of online grocery delivery software and delivering them through these methods too. If you want to track your whole online grocery business operations and boost your profits then the answer to the above question is a big yes! Today world is a must in multi-vendor grocery delivery software.
Conclusion
We have never seen or even imagined this much advantage of the grocery delivery applications ever before, being in the mobile app development company. There is a great future of mobile grocery applications in future as per the data available on the internet.